Woody was a firey little redhead who was born on the 10th of September, 1994. A Chestnut TB gelding by Home Office (NZ) out of Type (AUST), bred by RD Irvin just out of Bega on the NSW south coast. He started life as a racehorse with the name of Gold Reply, but found his true calling as a brave and talented eventer by the name of Diamond Venture.
"Diamond Venture" - 1994 - 2005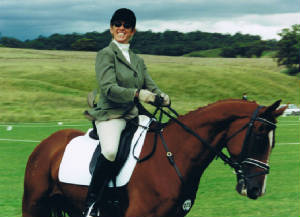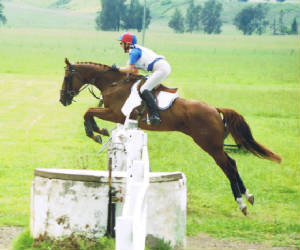 Some of Woody's numerous achievements include:
Berrima 2001 Pre-Nov 2nd
Scone 2001 Pre-Nov 2nd
Goulburn 2001 CNC* 1st
St Gregs 2001 CNC* 3rd
Berrima International 3DE 2001 CCN * 1st
Melbourne International 3DE 2002 CCI * 4th
Berrima International 3DE 2002 CCI ** 2nd
MHT 2003 Inter 1st
Goulburn 2003 CIC ** 9th
Berrima 2003 Adv 3rd
SIEC 2003 CCI ** 5th
Camden 2003 Adv 5th
SIEC 2004 CNC** 4th
Camden 2004 CNC*** 1st
Sydney 3DE 2004 CNC***
Coffs Harbour 2004 CIC ** 7th
The fairy tale story of the racetrack reject with a little bit of attitude becoming a famous 4* eventer was cut short. Woody passed away in March 2005 after a long battle with a lung abcess. Thanks to his vet Dougie for his excellent care and never give up attitude, and to all those who helped either with just a word of sympathy or in assisting with the financial burden THANK YOU.